Product Special Name: Die Another Day (The Mixes Part 2)
American promo 2x12"
released via Maverick with catalogue number PRO-A-101012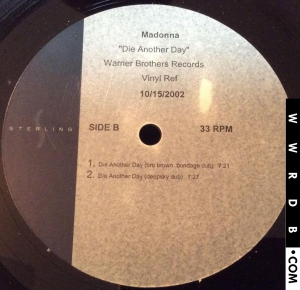 Format: 2x12"
Country of origin: United States
Label:
Maverick
Catalogue number: PRO-A-101012
EAN/barcode:
none
or
currently unknown
Release date: 15th October 2002
Limited Edition: No
Promotional item: Yes
Counterfeit/Bootleg/Unofficial: No
DETAILED INFORMATION:
2 Sterling one-sided 12" acetate promos for sides A and B, no p/s issued
Track Listing:
There is no track listing available for this product.
Tools For This Product
Spotted any errors or omissions?
Contact
us with the details quoting the above page link and we'll update the database.